Achieve a beautiful ponytail hairstyle of your dreams with clip-in hair extensions
A good hairstyle plays a significant role in enhancing your appearance, which is often synonymous with fashion. Many women have desired long and thick hair, but hair growth is a time-consuming process that demands a lot of attention and care. That's where clip-in hair extensions come into play.
Clip-in hair extensions are available in single or several pieces called wefts that vary in width. Extensions are virtually unnoticeable and can be clipped in and out of your hair in a matter of minutes with ease!
Clip-in hair extensions are the simplest, quickest, and safest way to achieve long, thick hair in a matter of minutes. But did you know you can wear a clip-in hair extension to create a ponytail hairstyle? It's true! Read on to learn how you can do that and a few ponytail hairstyle inspirations.
How To Create A Ponytail With Clip-In Extensions?
Follow these eight simple steps to achieve a beautiful ponytail hairstyle with clip-ins
If your ponytail is in need of some assistance, hair extensions are the ideal option. Follow these easy steps to learn how to achieve a ponytail with an extension in minutes.
Step One: Remove Knots And Tangles
The first step is to brush your hair thoroughly to remove knots and tangles from your hair. Dampen your hair, use a paddle brush and brush your hair from the bottom up.
Step Two: Brush Your Clip-In Extension
After combing your hair, gently brush your clip-in hair extensions and get rid of tangles. Consider where you want them to go on your head, altering as you go if necessary.
Step Three: Divide Your Hair Into Sections
One should be in the front of your head, one in the middle, and one in the rear. Make a tiny ponytail using the back of your hair, which will be the foundation for the ponytail you'll make with your hair extensions.
Step Four: Clip Your Largest Hair Extension First
Tease the roots near your crown and clip the largest extension by turning your head upside down.
Clip the straight or curly hair extension upside down to lay flat when tied into a ponytail.
Another way to clip the extension is by creating a small ponytail underneath the top section. It will act as a base for your ponytail. Then, clip-on as many hair extension wefts as you need for volume around the base of your little ponytail. Don't worry if they're obvious; when your ponytail comes together, you'll be able to hide this section.
Step Five: Back Comb Your Hair
Unpin your top part and backcomb to give texture and volume once you've inserted all of your extensions. Spray this top portion with hairspray for added hold once you've backcombed it properly.
Then, for a moment, pin this out of the way while you concentrate on the bottom section.
Step Six: Clip In Your Smaller Extensions
Install your smaller extensions where you parted your hair on teased roots.
Step Seven: Conceal The Clip-Ins
Use the leftover strands of your hair to conceal your clip-in extensions once they've been clipped in. Pull the middle piece of your hair back, gather it around your ponytail, and then repeat with the front section.
Gather everything and tie it into a beautiful ponytail. Gently comb the loose ends of your ponytail to achieve a sleek look. Tame flyaways and add accessories, or use hairspray for additional hold.
Step Eight: Style Away
Grab a curler or a flat iron to achieve the hairstyle of your dreams to your ponytail. Use a curler to accentuate the curls in your curly hair extensions.
Ponytail Hairstyle Ideas For Any Occasion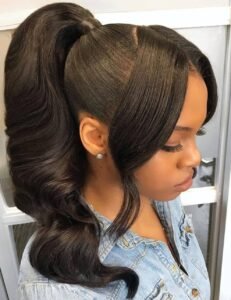 Four ponytail hairstyle for every occasion
Check out these stunning ponytail hairstyle ideas that you can wear for any occasion.
A Voluminous Ponytail Hairstyle
This voluminous ponytail hairstyle is a great option whether you are going for brunch or shopping with your girls.
Achieve this beautiful look with kinky curly hair extensions tied into a ponytail with the eight steps mentioned above. The height of the ponytail makes the kinky texture stand out even more.
Textured Bubble Ponytail Hairstyle
A gorgeous ponytail hairstyle with a ton of texture
This day-to-night textured bubble ponytail hairstyle is a look that will make heads turn where ever you go. To achieve this look, you can directly use a long-length clip-in hair extension and wrap it around the base of your ponytail.
Use a few elastic bands to create the bubble effect throughout your hair.
The sleek and textured hairstyle looks great with hoops and pushed back edges.
Low Kinky Curly Ponytail Hairstyle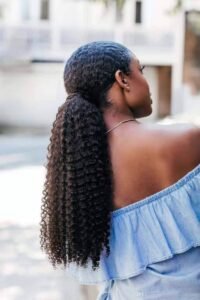 Low kinky curly ponytail hairstyle
A low ponytail hairstyle is a classic, and you can flaunt this stunning hairstyle with the eight steps mentioned above. This hairstyle goes perfectly with an off-shoulder or an off-shoulder dress, as seen in the image. It is a perfect ponytail hairstyle option for work or any occasion.
Pair this clip-in hair extension ponytail hairstyle with a beautiful necklace and a pair of elegant earrings.
Colored Ponytail Hairstyle With Side Fringes
Become the center of attention with this gorgeous ponytail hairstyle through clip-in hair extensions
Whether you have a balayage or an ombre color, it looks beautiful in a ponytail hairstyle. Take a few sections of your hair out for side fringes and create gorgeous waves throughout your ponytail, and set the look with hairspray.
As mentioned in the beginning, a good hairstyle plays a huge role in enhancing your overall appearance. Many women desire thick and long hair but growing your hair takes time and a lot of patience.
Clip-in hair extensions are a fantastic way to achieve beautiful ponytail hairstyles, and you can choose from various lengths and textures such as straight, wavy, and curly hair extensions.
Follow the eight easy steps mentioned above to create a ponytail hairstyle of your choice with clip-in hair extensions. Clip-ins offer length and volume within minutes, and they can be removed in no time. Choose any hairstyles mentioned above and sport a gorgeous look with clip-in hair extensions and make jaws drop everywhere you go!
READ MORE: